Land
The natural landscape of the region is visually stunning and remains relatively undeveloped. So head out for a day of hiking and waterfalls, take a gentle rafting trip, hop on a bicycle, or go bird watching. And, after the day's excitement is over, wind down at the beach for a colorful tropical sunset.
Hiking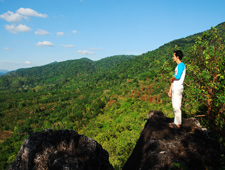 The region boasts an abundance of virgin jungle teeming with wildlife and exotic fauna. Many trails lead to spectacular viewpoints and waterfalls. Popular choices are Khao Yaa and Khoa Phra Mii mountains near Kuraburi. Walks can also be taken through meandering orchards to harvest fresh fruit and rubber plantations to try your hand at rubber tapping. Klong Nakha Wildlife Sanctuary is ranked as one of most biodiverse areas in Thailand. It is home to elephants, tigers, tapir, gibbons, and eight species of hornbill.
To maximize your hiking enjoyment, you can find local guides and professionally arranged excursions by contacting the ecotourism groups in Ban Na, Ban Talae Nok, Koh Surin,Muang Kluang, and Ton Kloy.
Rafting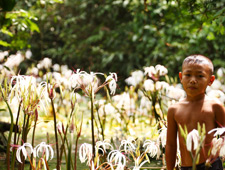 Join a local conservation group for an easy-going float down through jungles and orchards in Ban Na. Nearby, you can join the Nakha Ecotourism Group on bamboo rafts that will take you past endangered Water Lilies. This beautiful plant is found nowhere else in the world, and your trip will help support conservation and education efforts to prevent the Water Lily from extinction.
Waterfalls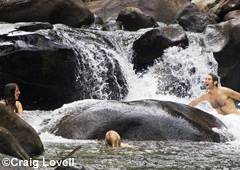 The area is also home to several spectacular waterfalls and swimming holes. Ton Kloy swimming hole, two km east of Kampuan, is easily accessible and serves as the trailhead for the vigorous climb to Ton Reng waterfall.
You can also access waterfalls from the villages of Ban Na, and Ban Talae Nok. Or you can relax in the pool beneath Suan Mai waterfall, 17 km north of Kuraburi. Kuraburi locals often swim at the reservoir that is located 13 km northeast of town, at the edge of Sri Phang-Nga National Park.
Birding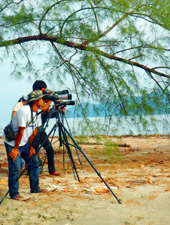 The Andaman Sea Coast contains some of the most significant areas of coastal wetlands remaining in the Kingdom. The most important of these wetlands, for both man and biodiversity, are the large areas of inter-tidal mangrove forests and their associated inter-tidal sand- and mud-flats, along with significant sub-tidal areas with sea-grass beds and corals. The region is a haven for birdlife and bird watchers alike.
The Kapoe Estuary in Laem Son National Park has been designated a Ramsar wetlands site of global importance, and you can see a variety of uncommon migratory and shorebirds. Visit Kapoe Estuary with the Muang Kluang Ecotourism Group.
Another area of significant interest is Koh Phratong island and its associated mangroves, inter-tidal flats and sea-grass beds, which form an extensive natural harbor. An IUCN assessment recorded 137 bird species The island has been identified as an "Important Bird Area" (IBA) by BirdLife International, as it supports the last significant population of Lesser Adjutant Stork (Leptoptilos javanicus) in peninsular Thailand and also the biome-dependent Pale-capped Pigeon (Columba punicea) and four other globally near-threatened species.
Biking
The local back roads are ideal for long bicycle rides. Recommended routes include Kampuan town to Nakha River via Ton Kloy, and around Mae Nang Khao near Kuraburi. Sturdy bikes are recommended, and dirt roads can be muddy in the monsoon.
Beach Sunsets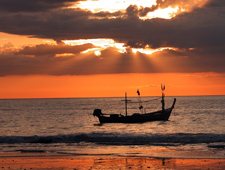 At the end of the day, the offshore islands are often silhouetted against an amazing canvass of pink, orange and red as the sun sets over the horizon. Koh Phratong, Ban Talae Nok, and Koh Surin are among the best places to enjoy a colorful sky at the end of the day.