Welcome to the N-ACT
The North Andaman is an undeveloped stretch of coastline on the border of Phang Nga and Ranong provinces in Thailand.
Muslim, Buddhist and Moken villages live side by side in harmony. Coral reefs and tropical rainforests are just minutes away from each other.
Fishermen and farmers still survive by their traditional livelihoods, and many communities are now offering visitors a chance to see the area through local eyes.
In compiling information for this website, a great deal of time was spent engaging with all possible stakeholders. This sorting process generated a repository of local tourism knowledge.
This website will guide you to an age-old world of villages, beaches and jungles. Read on to learn more about getting here, and local culture.
Depending on the amount of time you have available, and your personal interests, there are many opportunities. Join local guides for a village tour, rainforest hike, or a peaceful beach walk. Hop aboard a long-tail boat to explore mangroves and uninhabited tropical islands. Or join with women's handicrafts groups to make batik and natural soaps.
One of the best ways to experience this area is to stay with a Thai family in a homestay. Being welcomed into a Thai home is a truly intimate experience that will create life-long memories and friends. You will sleep well at night knowing that your time and money are contributing to sustainable development.
---
Climate and Geography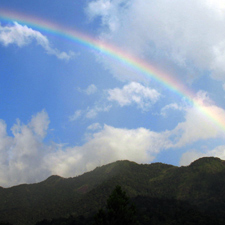 The North Andaman region has two seasons; the dry season (November to April) and the green season (May to October). Temperatures remain around 30°C throughout the year, reaching up to 35°C around the months of March and April, Thailand's hottest months.
The southwest monsoon brings precipitation from May to October, but it's always a good time to visit, so don't let the odd rain shower put you off.
Diverse Habitats
The area contains a wide array of landscapes including:
island savannah
beach forest
coral reefs
sea-grass beds
evergreen, dry, and montane forests
and one of the largest and most intact mangrove areas left in Southeast Asia.
National Parks
There are a number of national parks protected areas in the region, including Sri Phang Nga National Park and Nakha Wildlife Sanctuary, both of which have great hiking trails and scenic waterfalls. For coastal and island exploration, make sure to visit Surin Islands National Park or check out Laem Son National Park for island-hopping, mangrove exploration, and bird-watching.
---
Challenges and Solutions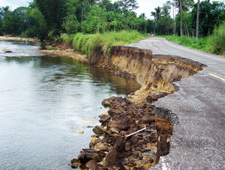 The culture and economy of the North Andaman Coast depend on a healthy environment. Growing threats such as shrimp farming, declining fish populations, tourism, and land encroachment have serious consequences for local communities.
Promisingly, a number of conservation efforts are underway including youth education, mangrove restoration, waste management and protection of an endemic water lily. Visit the community pages to learn more about how can see first-hand what's going on.
Several highly dedicated conservation groups also work in the North Andaman area, including the Mangrove Action Project, Moken Islands, and Naucrates.
Changing Land Use Patterns – Encroachment, and Erosion
Land encroachment is a major issue in the area, as it is all over Thailand. Land laws, property titles and ownership rights aren't always clear or adhered to. It is not uncommon to see government land or protected areas cleared for rubber or palm plantations. People may encroach and remove areas of forest in the hope of gaining ownership.
Deforestation leads to erosion and increased sediment in the surrounding rivers and streams. Ultimately, this damages mangrove and coastal ecosystems downstream. Pesticides and fertilizers used on plantations disrupt the delicate chemical balance of the watershed and threaten to harm coral reefs and sea-grass beds out to sea.
Habitat loss due to commercial exploitation also leads to removal of native species and reduction of biodiversity. This puts pressure on vulnerable species including gibbons, lesser mouse deer, slow loris, pangolin, dugongs and turtles. Rare or valuable species may be illegally hunted, poached or harvested for consumption or financial gain. The Nakha water lily, for example, is on the brink of extinction.
Problem – Declining Fish Populations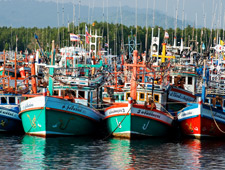 Commercial fishing boats are a common sight along the North Andaman coast. Seafood is in high demand from restaurants all over Thailand, especially the densely populated tourist areas of Phuket and Khao Lak.
Evidence suggests a decline in fish populations due to over-fishing, increasing competition between the commercial fishing fleets and local long-tail fishing boats. Nets and boats may trap or kill endangered species including sea turtles and dugongs. Sea-grass beds can also be damaged by motorized boats.
Shrimp Farming and Mangrove Forests
One of the major threats to mangroves is shrimp farming. Whole areas are uprooted to create large aerated pools used to breed and grow shrimp. Large amounts of chemicals are used to maintain the farm and a lot of waste material is generated. This waste material then enters the surrounding watershed and eventually the mangrove forest and coastal ecosystem.
Often, attempts to regenerate the mangrove forests replant only Rhyzophora species, resulting in a dramatic reduction in biodiversity. Many locals depend on the mangroves as a source of food and shelter. Mangrove wood is a popular material for building homes. Other people may trap crabs for consumption or sale, putting pressure on populations.
Tourism
The beauty and cultural diversity of the region makes it an attractive place for tourists to visit. However, tourism development often occurs in sensitive areas or encroaches on protected land. Increased numbers of visitors place additional pressure on water and waste management resources. Inappropriate anchorage and inappropriate snorkeling behavior on coral reefs can damage the delicate reef ecosystem.
Other problems may be caused when land owners develop on their land regardless of rules and regulations. This is often the case with hotel and resort development, which is why strict enforcement of zoning rules is required.