Background
Although Ton Kloy is located just off the main highway, it's still a world away from the hustle and bustle of trucks and buses. Join a local guide and pick sumptuous tropical fruit straight from the tree, and then try your hand at weaving sarongs with the women's group, or simply marvel at the intricate traditional patterns.
Ton Kloy is a well known departure point for jungle hikes, including a spectacular waterfall and an historical tin mine that was active during the early 1970's, and used to feature a good access road and a helicopter landing pad. The Ton Kloy waterfall and swimming hole is a popular weekend destination for surrounding villages. The shallow waters make it an ideal place for families and young children to swim and play. At the weekend, local vendors sell green papaya salad and hire out rubber rings.
The 11-member Ton Kloy Tourism Club was founded in January, 2007, to promote community-based tourism in the area to encourage conservation. Previous university guests from the nearby Kasetsart Research Station have stayed with local families in homestays, although there is no official homestay group. The Tourism Club also engages in community service activities including trail maintenance, road side clearance, and rubbish removal.
How to Book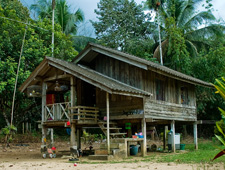 Contact: Alee Salee, Telephone: +66 (0) 86 686 7536
Contact: Adulmoonit Malek (Moonit) Telephone: +66 (0) 81 737 1654
How to Get There
The village is designated as Moo 6 of Tambon Kampuan, Suksamran District of Ranong province on Highway 4, and covers an area of 16,775 rai.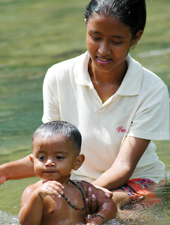 Seasonality
Most activities are available throughout the year, although some are seasonal, like visiting the fruit orchards, so be sure to check before you arrive. Heavy rain may make some trails inaccessible, however, the local guides will offer an alternative and safer route where possible.
---
Activities
Trek to Ton Rang Waterfall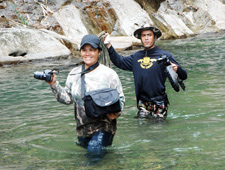 This is an intense trek through dense forest and streams, so sturdy footwear is essential. It's certainly not for the fainthearted although the waterfall is certainly worth the effort. Along the way expect to see various mushrooms, medicinal plants, strangler figs and lots of great butterflies, for which the area is famous. The waterfall is the ideal place to cool off after the trek and features fun water-shoots across slippery boulders and rocks.
Exertion level: moderate.
Duration: 3 hours
Women's Weaving Group
Ton Kloy is home to a women's weaving group that use looms to create beautiful sarongs, which are sold locally. Become mesmerised by the clicking of the looms and watch the individual yarns transform into intricate patterns. You are welcome to work the loom yourself, under the watchful eyes of the ladies. The women also crochet headscarves and bags which are sold locally and in Had Yai.
Exertion level: easy.
Duration: 30 minutes
Visit Fruit Orchards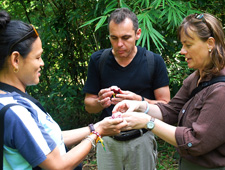 Ton Kloy has an abundance of orchards growing a variety of exotic fruit including rambutan, mangosteen, and the infamous durian. Join a local guide and sample fruit straight from the tree. You can even try your hand at fruit picking, although it's not as easy as it looks!
Exertion level: easy.
Duration: 1-2 hours, this activity is seasonal, June-August.
Hike to Historical Mine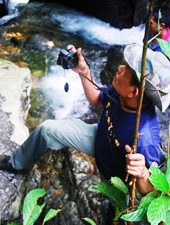 Ton Kloy is a well known departure point to visit a historical tin mine, Muang Chon, that was active in the early 1970's. It used to have a good access road and a helicopter landing pad, however, nowadays you have to walk 20 kilometers through pristine jungle to reach the abandoned mine. Once at the mine, you can see old trucks and dredging equipment used to extract tin.
Exertion level: very difficult.
Duration: 5 days
Forest Exploration and Bird Watching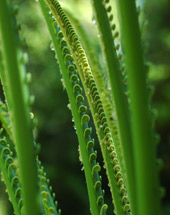 Surrounded by rain forest, Ton Kloy is perfect for exploring different species of flora such as the bat flower, torch ginger, cinnamon, and large trees such as the velvet tamarind. Regional wildlife includes monkeys, gibbons, langur, squirrels, and mouse deer. Early risers will be treated to such vibrant bird life as hornbills, the asian fairy bluebird, orioles, and the red turtle dove.
Exertion level: moderate.
Duration: 2 hours