The warm-hearted nature of the residents offers an intimate insight into the lives of a Muslim fishing and agricultural village. With several years of experience welcoming visitors into their homes, the villagers are skilled at cultural and language exchange. In 2007, Muang Kluang was awarded "The Most Outstanding Community-based Tourism Award" by the Tourism Authority of Thailand.
Surrounded by the breathtaking beauty of the Laem Son National Park, Muang Kluang boasts stretches of undeveloped beaches, mangrove forests and panoramic views of Kapoe Estuary, an internationally protected wetland.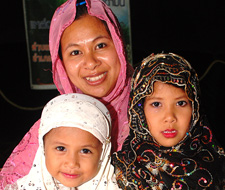 Traveling by long-tail boat, guests can explore Kapoe Bay and a floating fish farm, or the uninhabited islands of Laem Son National Park, where snorkeling is possible in the dry season. A tour of Kapoe Bay is excellent for bird watching, and provides an in-depth look at the mangrove forests and local fishermen's way of life. Bay tours can include a lunch stop at Laem Naew village, where a sea food feast awaits.
Heading inland, the Doi Roi View nature trail winds through the jungle up to breathtaking views of the Andaman Coast. Service activities such as mangrove planting, teaching school children, and village clean-up are also available.
How to Book
Contact: Wilawan Sebsabay (Jo Jo)
Telephone: 66 (0) 89 287 0471, 66 (0) 77 842 117
E-mail: jojobansamnak(at)hotmail.com
How to Get There
Muang Kluang's office and information center are located on Highway 4 at the turn-off to Laem Son National Park, 7 km north of Kapoe town. Buses are available from Ranong and most southern destinations.
---
Cultural Activities
Homestay
Experienced homestay hosts are skilled at welcoming guests from all over the world, and are adept at making you feel at home right away. You'll have your own private room, complete with bed, mosquito net and fan. Upon returning from your activities, you can enjoy a veritable feast of local Southern dishes including spicy curries, noodles and stir fries, freshly prepared by your homestay family. Downtime in the evening is an ideal time to get to know your hosts, so bring some photographs from home to act as a talking point. Alternatively, you can stay in your own fan bungalow located in a fruit orchard and join a host family at mealtimes.
Thai Cooking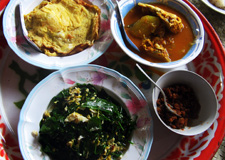 Awaken your taste buds with Thai food sure to delight your palate. Learn how to cook a variety of mouth-watering Thai dishes with the experts themselves, the villagers. Spend time alongside villagers in the kitchen with a demonstration and hands-on practice. Then sit back, relax and enjoy the dishes that you helped create.
Duration: 1 hour
Local Folk Songs and Dances
Muang Kluang has several folk singers and a Thai dance troupe, who are available for performances outside of school hours. You can ask your local guide or host family for more details of how to book. Depending on the date of your stay, you may be invited by the villagers to participate in a traditional festival or holiday.
---
Outdoor Activities
Islands Trips
Traveling by long-tail boat, you can explore the uninhabited islands of Laem Son National Park, where you can see many types of coral and vibrant fish. The tour comes with snorkeling equipment, and a local guide, along with a lunch of traditional favorites for you to enjoy on the beach.
Exertion level: easy to moderate.
Duration: 3-6 hours
Nature Trail Trek
Heading inland, the Doi Roi Viewpoint nature trail winds through an evergreen hill forest and provides breathtaking views of the Kapoe Estuary and the Andaman Coast beyond. A local guide will highlight points of interest. These forests are vital habitat for animals that move between the mangroves and upland areas. Forest resources are also important for villagers as a source of medicinal herbs, wild fruits, and house-building materials.
Exertion level: easy to moderate, depending on route requested.
Duration: 3 hours to a full day, depending on your interest
Kapoe Estuary Boat Trip
The Kapoe Estuary, the biggest estuary in the North Andaman, is and internationally-recognized Ramsar wetlands. Head out in a long-tail boat through the mangrove forests and into the estuary, home to rare and migratory birds species. Flocks of cormorants and egrets can be seen flying over the estuary at sunrise and sunset, so get up early for some great photo opportunities.
Going out further, you will notice shack-like structures floating on the sea. These are floating fish farms, which are used by locals to grow edible seaweed and breed shellfish and many types of fish including grouper and snapper. It is also possible to go to a remote Muslim fishing village, called Laem Naew, situated on a peninsula only accessible by boat. Here you can learn about village life and local fishing practices.
Exertion level: easy.
Duration: 4-5 hours