Local Crafts and Products
Ban Talae Nok Batik and Herbal Soap Cooperatives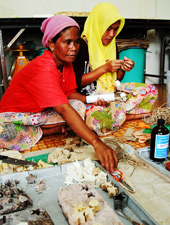 Many of the women in Ban Talae Nok village were left widowed by the tsunami. To provide vital income and a support network, the ladies started the Ban Talae Nok Tsunami Soap Cooperative with the assistance of several national and International aid NGOs. After months of training and development, the ladies started to produce fragrant handmade soaps made from cinnamon, lemongrass, saffron, and cloves. The soaps come in a variety of shapes and sizes; some beautifully presented in polished coconut shells.
After the success of the soap group, some members decided to expand into making Batik. After successful application for funding, the group set up a small work shop space in each of their homes, so that they could continue to care for their children in the comfort of their own home. The highly-gifted ladies draw intricate designs onto cotton, which can then be made into sarongs, handkerchiefs, bags and clothes. Batik products are available direct from the group.
Contact: Thamrong Chompusri (Tui)
Telephone: +66 (0) 87 917 7165
Bak Jok Moken Boat Group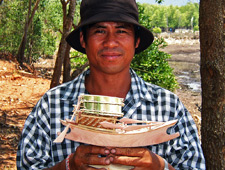 The village of Bak Jok was completely destroyed after the tsunami and many residents had to relocate to the mainland while their homes were rebuilt. Many had lost their boats, and had no immediate source of income to provide for their families who survived the wave. North Andaman Tsunami Relief (NATR) asked a few of the villagers to make replica Moken Sea Gypsy boats as a thank you to their key donors. The intricate wooden model boats gained a lot of interest and the men decided to form a group making the model boats. Boats can be made to order and are available via Andaman Discoveries.
Contact: Thamrong Chompusri (Tui)
Telephone: +66 (0) 87 917 7165
Koh Surin Moken Sea Gypsy Handicrafts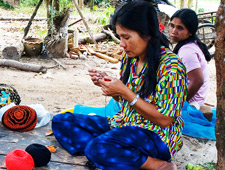 Moken men are highly-skilled artisans and handcraft traditional Moken "Kabang" houseboat models. The women of the community hand weave beautiful baskets, cases and mats from pandanus leaves found on the island. Natural dyes create vibrant pinks, purples and greens, making these items an ideal lightweight gift to take home. The Moken products are available direct from the villagers or at the National park Head Quarters on the island. Purchasing Moken handicrafts are an ideal way to help the Moken, much better than giving money directly which may encourage begging.
Muang Kluang – Basket Weaving and Scarf Knitting Groups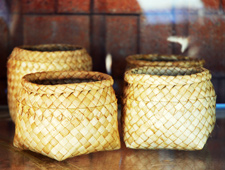 Thailand artisans are renowned for their weaving skills, creating beautiful baskets, mats and containers from reeds and palm leaves. The Muang Kluang Basket Weaving Group are no exception, creating durable yet visually appealing items from locally sourced materials. It is also possible to join the ladies for an interactive workshop in the art of weaving.
Many Muslim women wear knitted and crocheted hats and headbands while at home or underneath their beautiful headscarves. The Muang Kluang Scarf Knitting Group hand knit headbands and scarves for sale in the village and at national craft fairs. These items are available in a variety of patterns and colours, and make an ideal gift for somebody back home. You can join the ladies to learn how to knit and try your hand at making your own headscarf under the careful instruction of the ladies.
Contact: Wilawan Sebsabay (Jo Jo)
Telephone: 66 (0) 89 287 0471, 66 (0) 77 842 117
E-mail: jojobansamnak (at) hotmail.com