Background
The floral diversity of the Ban Na area is notable, both in terms of rare forest plants and the agricultural diversity and traditional methods by which farming is practiced.
While in Ban Na you can take a gentle river rafting trip that is as educational as it is enjoyable. Stroll through traditional coffee and fruit farms as song birds chirp from the trees overhead. Next, head into the forest to reach geothermal springs, a spectacular waterfall, or the regions highest "mountain."
Nearby homestay accommodations can be found in Muang Kluang and Ban Talae Nok. Alternately, you can camp at Laem Son National Park.
Ban Na has an active conservation group led by the charismatic Pachernsak Jeakkajorn (Lek). The group is actively working to counter unsustainable practices like river dredging and monocrop commercial plantations. The conservation group is also investigating the potential of tourism activities to help halt the degradation of the area and eventually reverse it by reintroducing the cultivation of sustainable mixed agriculture through community-based tourism.
Working closely with IUCN staff, community members have identified ecotourism development as an part of an overall conservation strategy. Locals have recently been engaged in community resource mapping, with attention to both conservation and potential tourism activities.
How to Book
Pachernsak Jeakkhajon (Lek)
Coordinator, Phu Su Lae Group
Telephone: +66 (0) 81 861 3852
How to Get There
To reach Ban Na, turn off of Highway 4 in Kapoe on route No. 4130, and head 17km east.
---
Activities
Inflatable Rafting
This river trip is as educational as it is enjoyable. With an expert guide, you can learn about conservation issues surrounding natural resource management in this important watershed. Your guides will provide you with paddles, safety equipment, and a delicious lunch. As you drift peacefully along, you'll see krai nam saplings, with their robust roots, which the conservation group hopes to replant in order to prevent the damaging effects of erosion caused by deforestation and dredging upstream. Your local guide will explain how mono-crops of rubber and palm replaced fruit orchards after a drop in fruit prices forced many farmers to switch crops.
Exertion level: easy.
Duration: 3 hours
Coffee and Traditional Agriculture Tour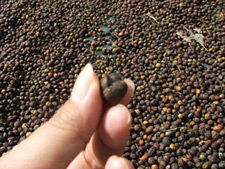 Stroll through traditional coffee farms as song birds chirp from the trees overhead. Visit a traditional mixed agriculture plantation, and revel in the diversity of mango, guava, banana, tamarind, coffee, and many other trees. Observe the wild orchids and exuberant foliage while learning about sustainable growing practices that are now under threat.
Exertion level: easy.
Duration: 2 hours
Visit to Women's Craft Groups
In addition to exploring the area's natural wonders, you can also visit several cooperatives that are making high-quality natural products. Of particular note are the loom-woven sarongs, so pay the group a visit, and watch the individual yarns transform into intricate patterns. You can also learn how to make herbal balms and coffee wood furniture, and then buy some snacks from the bakery group.
Exertion level: easy.
Duration: 1-2 hours
Forest Trekking
Ban Na is surrounded by a series of Wildlife Sanctuaries offering protection to the rich diversity of wildlife native to peninsular Thailand, including guar, tapirs, and monkeys. Local guides will take you on the little-known trails, and share their knowledge of the forest with you.
Hot and Cold Springs – Take an easy stroll through the forest to reach this unusual combination of geothermal springs that are only minutes away from each other. Enjoy fresh-boiled eggs cooked in the hot springs with bamboo baskets.
Exertion level: easy.
Duration: 1-2 hours.
La-ong Dao Waterfall – Translated as star dust, Long Dao takes its name from the droplets that form as the falling water is blown by the wind.
Exertion level: moderate.
Duration: full day or overnight camping
Po Ta Chong Dong Mountain – If you're feeling adventurous, set out for an overnight expedition to the tallest mountain in the area, and be rewarded with stunning views of the Andaman sea.
Exertion level: strenuous.
Duration: overnight camping trip