Culture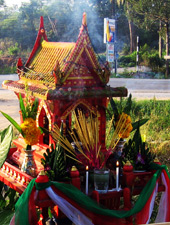 The region has many villages offering cultural tours. Some are well-established award winning groups while others are still exploring how to share their way of life. Your participation in a village tour will provide invaluable experience for the villagers and directly support the local economy.
When visiting the region and its villages, make the extra effort to be a respectful traveler. Please dress modestly, ask before taking photographs, and remember that there is no alcohol or pork allowed in Muslim villages. Many villages have a Code of Conduct to assist you while in village.
Village Tour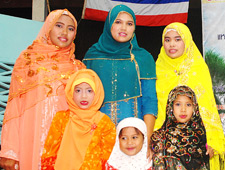 The key to a genuine North Andaman experience is spending time with the communities. The Muslim, Buddhist, and Moken Sea Gypsy communities that live alongside each other exude a warmth and generosity of spirit that is rare to find nowadays. Many of the communities offer village and cultural tours with local guides to share their way of life with you.
Many of the best moments happen naturally as you become part of village life — you may find yourself roasting cashew nuts, harvesting fruit, weaving fishing nets or simply hanging out with the villagers. Its genuine connections and intimate interactions like this that you won't find on the well-beaten path of Thailand's major tourist destinations.
For a village tour, head to any of the following communities: Ban Talae Nok, Koh Surin, and Muang Kluang
Handicrafts Workshops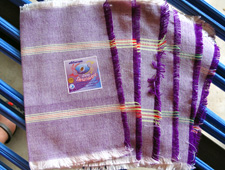 To see the fine art of making Thai Sarongs, head over to Ton Kloy and Ban Na, and join with the women's weaving group. Join in with the ladies of Ban Talae Nok to make herbal soap or create your own batik. Also make sure to stop by Muang Kluang for an interactive basket weaving demonstration. Other locally-made items can be found on the Local Crafts and Products page.
Homestay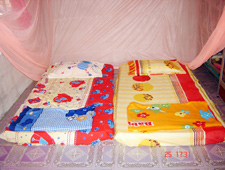 Staying in a homestay is a privileged experience, allowing you to take a in-depth look into the lives of your host family. The hospitality and warmth of the villagers will make you feel like part of the family. The region boasts several awarding-winning homestay groups, experienced at welcoming guests from all over the world.
Established homestays offer a private sleeping area in the family's home, mattress, mosquito net, pillow, blanket and fan. Meals are prepared by the host family, although not all families eat with their guests.
It's recommended to take a Thai phrasebook, some photographs of your family, and a small gift for your host family. Homestays are available in Ban Talae Nok, and Muang Kluang
Culinary Delights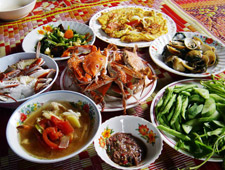 One of the highlights of a trip into village is the food. Every meal is a veritable feast of delightfully tasty Southern curries and fresh vegetable dishes, prepared by the host family. Mouthwatering local dishes are prepared using traditional cooking methods with the finest local ingredients and freshly caught seafood. Sharing a meal with the host family provides the ideal opportunity to share stories and learn more about your cultures in a relaxed and friendly atmosphere; however some host families will not eat with guests. It is also the ideal time to practice speaking Thai and teaching English, especially with the children.
Learn how to cook Thai food in Ban Talae Nok, and Muang Kluang.