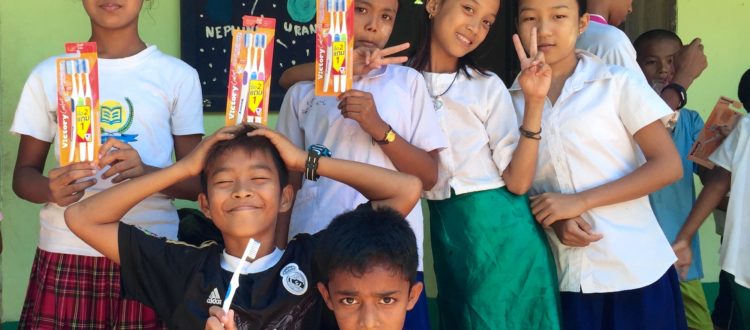 Burmese Learning Center New Projects
The students of the Burmese Learning Center in Kuraburi are getting well-rounded education thanks to the donors and volunteers who support the Center. Practicing the essential skills of hygiene and healthy eating are some of the extra curricular activities that take place on a daily or weekly basis.
Soy Milk Campaign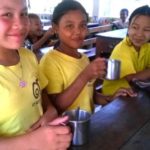 The students of the BLC are enjoying a weekly soy milk treat thanks to the generosity of one family's holiday donation. The soy milk campaign will deliver freshly made soy milk from a local Kuraburi woman who makes it daily and delivers it to the center. The $500 donation will help to cover the weekly snack for one academic year.
The idea was brought to us by visiting donor and volunteer Kyle Neo who saw that most Thai school children drink milk daily and wanted to offer a healthy snack to the Burmese students. By delivering fresh locally made soy milk to the Center, the students are getting the health benefit from the soy milk, as well as eliminating the unnecessary packaging waste!
Health & Dental Hygiene Campaign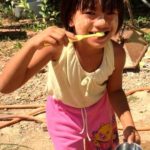 A long healthy life is important from the very beginning. At the BLC, we are taking strides to make sure the students are being informed on how to stay healthy. The students are brushing their teeth daily thanks to a school study service group from the International School Hilversum in the Netherlands.
Last year this Dutch student group who came to work at the Center had the idea to use the funds they raised to purchase toothbrushes, toothpaste and install an area where students can hang their toothbrushes. The campaign has kept up and the funds were enough to cover another school year of healthy teeth. Now the students understand the important of dental hygiene and the results are in those beautiful smiles!
Recent volunteers have continued to build on this project and have incorporated hand washing games and activities to keep these basic but necessary skills fun and interesting.
The Foundation for Education and Development, our partner in operating the Center, also come once a month to do health checks at both the school and in the community. This academic year will see an increase in health checks and education for the Burmese migrant community in Kuraburi.