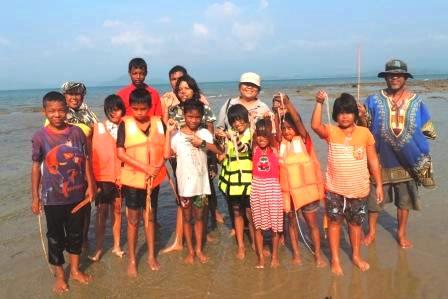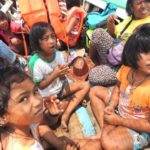 A beautiful March afternoon was the perfect setting for a group of Moken children and elders from the Chaipattana Village to set sail for a day of exploration and learning. Jao and his wife Juree took 14 children from the local village out on a long tail boat ride to the island of Koh Ra and offered lessons on digging for sand worms and harvesting oysters. This type of foraging was a staple of Moken life in the past, but the knowledge is quickly disappearing among the youth of the community.  Now based on the mainland, many Moken families find work away from the sea and have become accustomed to the convenience of modern life.  There is becoming no need for this type of skill.  But for many Moken, and coastal people alike, they would still rather enjoy a plate of sand worms stir fried in soy sauce when they have the opportunity!  Passing on this knowledge of where and how to find these edible delights is something that Jao and Juree find very important.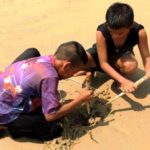 To find sand worms you need a long rattan reed that is used to poke into the air holes you see scatter on the beach.  But actually getting down to the sand worm is much more difficult and takes a few minutes of fast digging to catch up to them before they release from the reed.  Jao and Juree made it look easy and it took a few attempts before the first youth pulled up a worm.  With many smiles and a lot of laughter the job seemed effortless as almost 30 sand worms were collected.  Walking along the shoreline and rocky outcrops in search of oysters is less of a challenge, but still needs a good amount of effort to hit open the hard outer shell.  The oysters are collected and soaked in sea water before being stewed in a curry or fried to perfection.
At the end of the day the youth were eager to learn more and for another day out on the sea!  Many of the participating children were students who receive scholarships from the Moken Scholarship Fund.  These girls attend a boarding school near the town of Takuapa and for all of them this was a memorable weekend home to Kuraburi.  Activities like this to education Moken Youth on their culture and heritage is supported by the NAN Foundation's Moken Solidarity Fund.